It has been a regrettably long time since my last post about wine (I have yet to expound on the charms of the wine section of Trader Joe's), but Ari and I ventured to Brooklyn this weekend for a little free wine. The Brooklyn Wine Exchange, in Cobble Hill, opened in December, and from all of the people in there on Saturday afternoon, seem to be doing pretty well. Even more excitingly, this week and next weekend they are offering free wine classes! I obviously couldn't pass up the chance. This week was Wine 101, a basic run through on the six most common grapes in the world. There were around 30 people in the class, first come first serve (we got there about half an hour early and perused their selection in the meantime). The instructor also talked quite about how wine is made in much of the world, the fermentation processes, and the role of
terroir.
The class itself lasted almost two hours, and there was an option to become members and buy the win
e we tasted at the end. Anyways, onto the selections:
Elki Sauvignon Blanc 2008 (Elqui Valley, Chile)
: I'm not usually a big fan of whites, but this Sauvignon was very light and quite pleasant. The color was almost translucent, the taste quite acidic which I like, with an almost sparkling feel and lots of citrus flavors.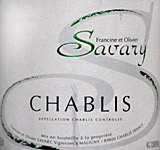 Francine & Olivier Savaray Chardonna
y, 2006 (Ch
ablis, France):
This is one of the largest wine producing regions in the world, reknowned for their chardonnay. You could almost taste the chalkiness of the limestone earth, and there were definite mineral flavors, in addition to some peach and dried apricot.
Shelter Pinot Noir, 2006 (Napa Valley, California):
I know there is a lot of talk about pinot noirs, especially after the movie
Sideways
, and I didn't really understand it until now. I guess I just haven't had good ones. This particular vintage, however, was wonderful. The color was a light garnet, and I immediately smelled raspberries and chocolate. The taste was even better, slightly acidic with a hint of floral notes, but even more chocolate taste and lots of fruit. Somehow, it escaped being too sweet, and the texture was really lovely and velvety. This was definitely the standout of the group for Ari and I, but at $30 a bottle it is also the most expensive. Worth it for a special occasion, however. (Or if you are not on a college student's budget)
Michel Torino Estate "Don David" Cabernet Sauvignon 2006 (Cafayete Val
ley, Argentina):
Cabernet is not necessarily my first choice on a wine list; but this was a good choice to show a typical one. The color was lovely, very dark and opaque, and the smell was quite earthy and I thought I detected a hint of tomato. The taste was also rather earthy with a hint of oak and smoke, with just a little sweetness at the end. Since this is aged in oak barrels, it makes sense. It would be a great accompaniment to a steak with some chimichurri.
Marquis Phillips Merlot 2008 (South Eastern Australia):
This wine was quite a bit sweeter, with definite floral and strawberry notes. The taste also had some apricot and peach tones, and was quite fruit forward. There was lots of body and it was very smooth.
Von Buhl Reisling Medium-Dry 2006 (Pfalz, Germany):
This was my second favorite, a lovely pale gold and translucent reisling. It was not overly sweet, like some can be, but had just a hingt of lemon and citrus fruit, with apricot and a bit of a minerally taste. Perfect acidity.
Overall, this was a wonderful experience and I hope to go back soon. The staff is clearly very knowledgable and passionate about wine, and I thought they had a great selection. They have a really great space, with the section for classes set up around long tables in the back, surrounded by wine and books on wine. For more information go to: brooklynwineexchange.com.